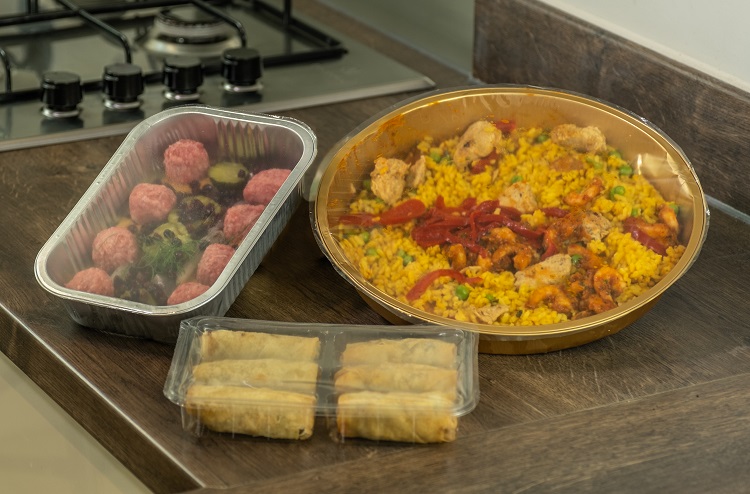 Camvac relaunches premium barrier lidding film range with exclusive new features. 
Camvac Ltd, global pioneer in transparent barrier films and laminates, has relaunched a range of market-leading AlOx barrier lidding film solutions: Camclear, Extrapet, and Extrapet PCR. Re-engineered with an unrivalled choice of gauges and widths, the trio boasts supreme gas and moisture barrier performance, transparency – and full recyclability.
Camclear is a chlorine free, EVOH alternative barrier coating, available in a wide range of single-web substrates, including polyester, polyethene and polypropylene in thickness from 12um. Camclear features exceedingly high barrier performance, both OTR and MVTR, which is critical for MAP/CAP packaging.
Extrapet and Extrapet PCR are all polyester barrier lidding film solutions. Available with weld or peelable seal options, the premium grade polyester will heat seal through contamination, preventing leaks and food waste. The Extrapet range includes retort films, also in weld and peelable grades, that have been specifically developed to withstand the high temperatures during a retort sterilisation process. Camvac's in-house antifog coating offers superior clarity which ensures excellent light transmission and low haze values. Extrapet PCR also supports improved sustainability with over 30% Post-Consumer Recycled content – which ensures it falls outside of the UK Plastic Packaging Tax criteria.
Camvac uses the highest-grade raw materials to create top-quality, highly engineered lidding films and laminates which surpass customers' needs. They are highly print receptive and provide best-in-class protection for fresh meat, fish, pork, beef mince, processed meats, cheese, pasta, vegetables and bakery products. Camvac's barrier lidding film solutions are perfect for converting applications, ensuring extended product shelf-life – and they are microwavable and oven-ready.
Camvac is uniquely placed within the films and laminates industry as an independent company. It can maximise its purchasing power and product optimisation as it works with whichever supplier can provide the best solution. As a result the relaunched films are available in an unheard-of range of widths – from 30mm to 2100mm.
Camvac's Director of Product Development, Gary Chalkley, explained: "Camclear, Extrapet and Extrapet PCR are the Rolls-Royce of transparent lidding films. They were pretty impressive first time out but, after the extensive R&D work our team has put into re-engineering them, we're confident that there are no better films on the market today. Certainly none with the sheer versatility combined with premium quality. As an added bonus the sealing range is an impressive 140 to 200 degrees Celsius, giving our customers the choice of running lines faster and using less energy to heat the machine. What's not to love?"
Camvac is a true one-stop-shop as it has the capacity and technology to metallise, laminate and slit films and laminates all under one roof, meaning the company can supply a full range of slit widths to match any application and order lead times are drastically reduced.
Gary Chalkley added: "Camvac has been synonymous with quality and innovation since its formation in Cambridge in the 1950s. The company pioneered the use of metallised films and laminates for a diverse range of applications and markets. We're continuing our mission with Camclear, Extrapet and Extrapet PCR – the next generation of lidding films. They're perfectly suited to multiple food and converter applications and we expect them to take the market by storm as so many of our products have in the past."