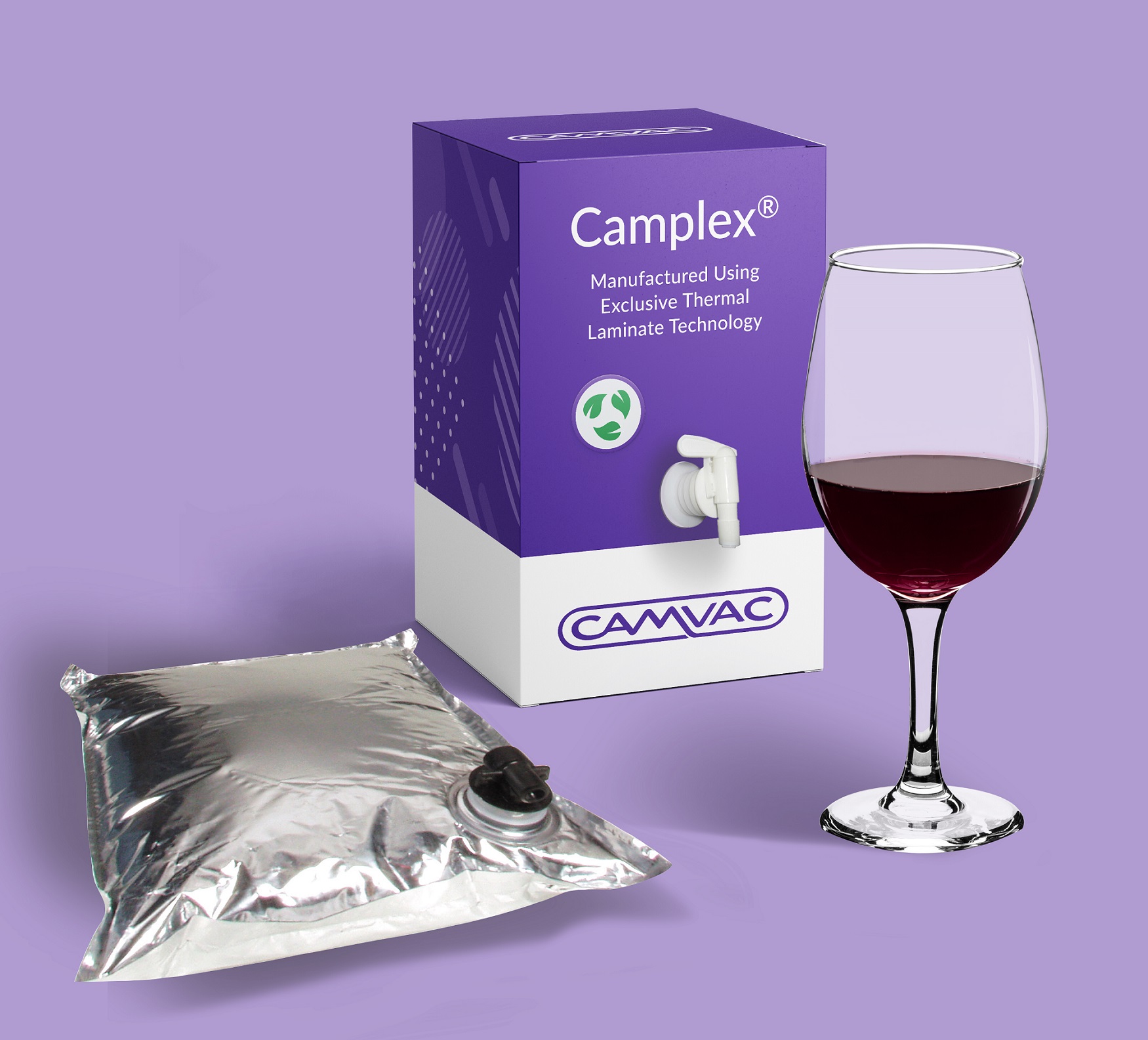 Camvac, a leading supplier of barrier films and laminates, both metallised and transparent, has re-launched their Thermal Laminate product range with enhanced product performance.
The high-performance, metallised triplex Thermal Laminate range is part of the Camplex product portfolio and is predominantly used within the manufacture of Bag-in-Box and bulk liquid packaging solutions. The thermal lamination range provides excellent seal strength, seal integrity and flexibility, which are key performance parameters in the packing and transportation of liquids.
The metallised polyester film and conversion into metallised thermal laminate has been developed in-house. Camvac's barrier film technology provides high oxygen barrier properties, maximising product shelf-life from packing through to consumption. Manufacturing of Camvac's Thermal Laminate utilises the businesses Camplus® process to enhance the oxygen barrier and in combination with its improved thermal lamination technology delivers bags with exceptional strength.
The enhanced product performance achieved through the recent development program will also enable Camvac to offer products from within the Thermal Laminate portfolio that could provide additional sustainability and cost savings to the supply chain. This will be achievable as the quality of the laminate may eliminate the requirement of the inner liner films, providing the possibility to significantly reduce the quantity of plastic per bag unit and deliver cost savings, whilst maintaining product performance.
The Thermal Laminate product range compliments Camvac's wide portfolio of barrier metallised and transparent adhesive lamination products that are supplied to the bag-in-box and bulk liquid packaging markets where Camvac has held a strong presence and reputation for quality, service and innovation for around 30 years.
Camvac's Thermal Laminates can be manufactured up to a width of 2180mm.
Camvac manufactures a diverse portfolio of barrier films and laminates that are suitable for and widely used in a range of food applications, including dry foods such as coffee, tea, and infant formula, in addition to the snack products, fresh foods and lidding film markets. Improving their Thermal Laminate product performance is part of a wider investment programme which has seen several new products launched into the marketplace and improvements made to already established product ranges.
Gary Chalkley, Camvac's Development Director spoke of the products newfound success: "Camvac's investment programme has definitely contributed to the enhanced product performance and our capability to produce excellent barrier properties for the Thermal Laminate. But it has not all been about investment. Without the in-house Technical and Operation Teams working in tandem with the desire to improve the product performance we would not have been able to bring a superior product to market. Thermal Laminate by Camvac is a product range we see as an area of continuous improvement. This is just the first steps in the project. Our future laminate developments targeted at sustainability will provide the potential to revolutionise the Bag-in-Box and bulk liquid packaging marketplace".
For further information and product details  on the Camplex range, click here.