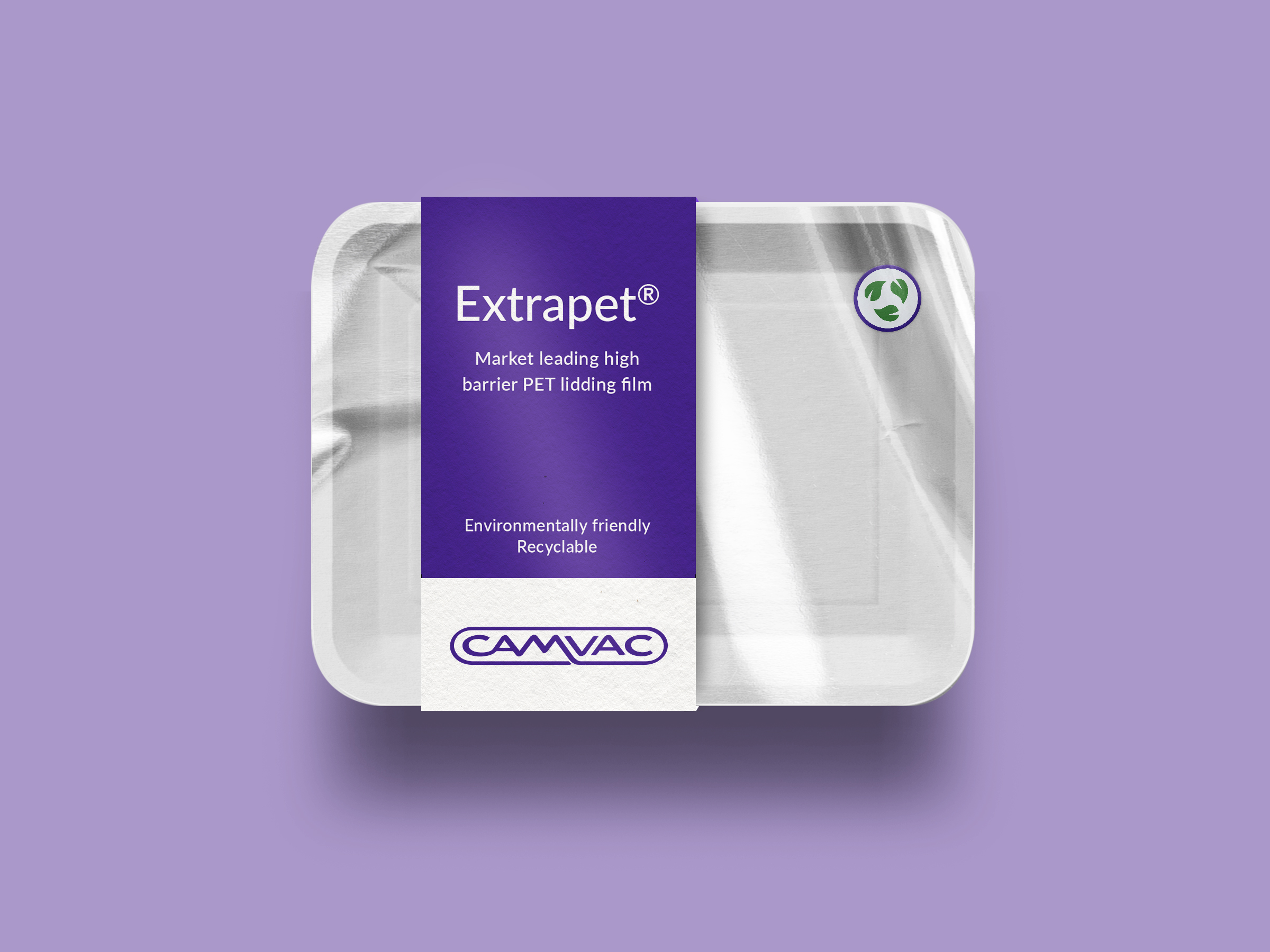 Mono Material lidding film, that is UK plastic tax compliant; ExtraPET. Available in peel and weld-seal options with anti-fog and excellent moisture and oxygen barrier properties.
ExtraPET also benefits from using Post-Consumer Recycled (PCR) content within the laminate structure which is food contact approved. The mono material lidding film, ExtraPET, can also be printed on, removing the need for external cardboard wraps around the tray and film lid.
The recyclable lidding film has the capability to seal and peel from various tray structures including most PET trays. A PET tray and ExtraPET film lid combination meets the ever-growing requirement of a complete mono-material packaging solution that is truly recyclable where facilities exist.
Camvac's ExtraPET film range is found in most UK supermarkets and has a growing presence globally, particularly in mainland Europe where a mono material lidding film solution is needed.
Not only are the UK consumers demanding greener and more sustainable options but also the 2022 UK Plastic Tax introduction is forcing converters and food packaging companies to find sustainable alternatives so they are not penalised or costs increased.
ExtraPET is a perfect solution to enable products currently packed in multi-polymer tray/lidding combinations to switch a 100% PET film / tray solution that is already extensively used in the MAP/CAP markets.
ExtraPET PCR has been developed to go beyond the 30% post-consumer recycled minimum.
With this new product being added to Camvac's ExtraPET portfolio, the predominant customer base of converters and packers will not change. The long-standing supply partnerships will continue to be built upon, albeit with a new environmentally friendly stance, alongside the proven reliability of Camvac's ExtraPET film.
ExtraPET PCR Key Product Benefits
Mono-material (widely recyclable)
Chlorine free barrier coating (environmentally friendly)
Excellent seal integrity
Minimum 30% Post-Consumer Recycled (PCR) Content for UK Plastic Packaging Tax
Peel and weld seal options
Market leading antifog properties
Excellent light transmission / low haze values. Excellent clarity and product visibility
High barrier laminate offers extended product shelf-life
Print receptive top coating
As Camvac continues to invest and develop new packaging films, the company is continually seeking new opportunities to partner with likeminded companies and would welcome any opportunity to discuss new partnerships – not only for our ExtraPET films but also our other packaging solutions.
Contact Us today to start the conversation.