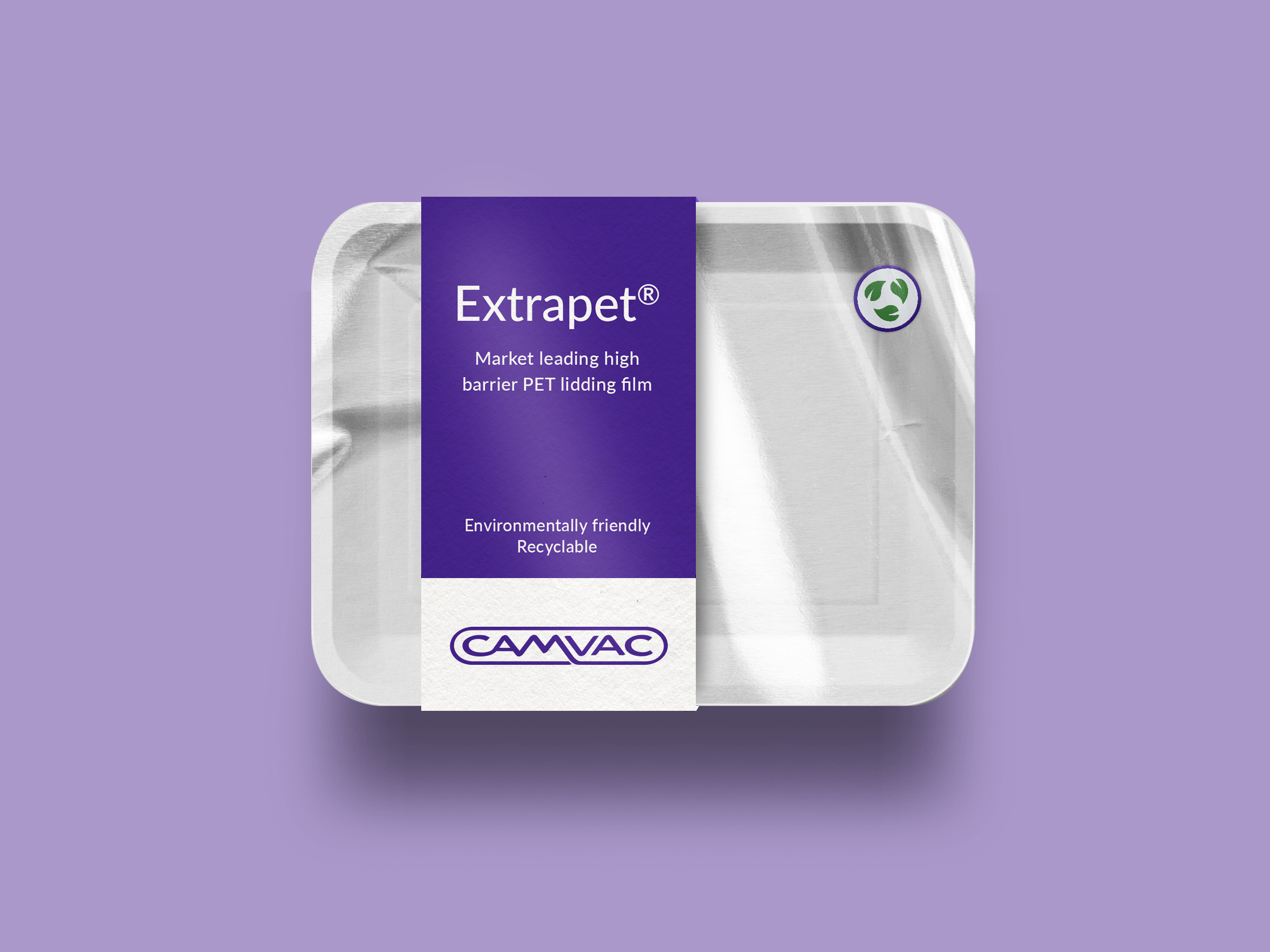 ExtraPET Recyclable Lidding Film by Camvac  
Norfolk based Camvac was the first company in Europe to produce food contact grade metallised PET and OPP films. Today Camvac is one of the leading global suppliers of metallised and clear barrier films and laminates for a wide range of Food Packaging, Liquid Packaging (Bag-in-Box) Solutions, Medical Applications, Construction, and Insulation products. Camvac's metallised films and laminates can be found in a wide range of consumer end products and packaging, from lidding on ready meals to films within construction insulation. Camvac's product range is constantly developing and evolving to meet the ever-changing needs of the consumer. Camvac has invested heavily into technological advances enabling sustainable packaging solutions to be available across most of their product portfolio, under their Camvert range.
Not all high barrier, sustainable, film solutions are newcomers to Camvac's Product Portfolio. Since its creation over twenty years ago Camvac's ExtraPET film has been widely acknowledged and recognised as a market leading product within the global lidding film sector. It's mono-material structure, exceedingly high barrier performance, both OTR and MVTR, critical for MAP/CAP packaging, together with high clarity and market leading antifog properties have been contributing factors to the film's longevity and continued market success.
ExtraPET is an all PET (mono material) configuration, available in a range of structures with the two most common being 12micron Polyester laminated to 15micron Polyester and 12um PET to 25um PET. Barrier performance is gained by Camvac vacuum coating the material during manufacture with one of their 'Cam' processes. Camclear® was another Camvac first, introducing alox coated polyester film into the market as a chlorine-free clear barrier film, setting industry standards for gas barrier and clarity, which makes it unbeatable for a variety of applications.
As a direct result of ExtraPET being an all polyester structure, the potential of total recyclability, where post-consumer collection infrastructure exist, is possible.
The transparent high barrier polyester laminate recyclable lidding film is found in most UK supermarkets and has a growing presence globally, particularly in mainland Europe. Its versatility means the film is used for a wide range of processed meats, fresh meats, poultry, pastas, vegetable, and bakery, where presentation and fresh appearance is critical. ExtraPET provides a variety of environmentally friendly solutions in peel and non-peel, anti-fog, and high barrier options.
The recyclable lidding film has the capability to seal and peel from various tray structures include PET trays. A PET tray and ExtraPET film lid combination meets the ever-growing requirement of a complete mono-material packaging solution that is truly recyclable.
Camvac are not willing to settle for a film which has been a market leader. Camvac's in-house development team are working relentlessly to guarantee ExtraPET (recyclable lidding film) exceeds market demands and its reputation. Consumers are demanding greener and more sustainable options and with the imminent new plastic tax introduction, investment in new sustainable technologies has to become not only best practise, but affordable, while also representing a major plus to consumers growing ever more concerned about the recyclability of plastic film and laminate products they purchase.
This is no more evident than with the PCR (Post Consumer Recycled) base film ExtraPET solution. ExtraPET PCR is in the final development stages and will be commercially ready in Spring this year. Gary Chalkley, Development Director of Camvac, commented "the consumers are demanding green solutions and even COVID-19 has not put a stop to Camvac's development plans. Our ExtraPET 70% PCR lidding film is in the final development stages. After the final round of testing has been completed, Camvac will be able to accept commercial orders from new and existing customers alike. The PCR lidding film development comes directly from the Development Team's hard work but also our Production Team's eagerness to create an even more sustainable and environmentally friendly film to meet what the market is demanding".
Camvac's predominant customer base is and will continue to be the converter and packer. Recently the company has entered new markets, partnering with machine manufactures and tray producers. These new relationships are built upon the quality and reliability of Camvac's ExtraPET film (recyclable lidding film). As Camvac continues to invest and development new packaging films, the company are continually seeking new opportunities to partner with likeminded companies and would welcome any opportunity to discuss new partnerships -not only for their ExtraPET films but also their other packaging solutions.
ExtraPET Key Product Benefits
Mono-material (widely recyclable / recyclable lidding film)
Chlorine free barrier coating (environmentally friendly)
Excellent seal integrity
Peel / non-peel options
Antifog / non-antifog options
Excellent light transmission / low haze values. Excellent clarity and product visibility
High barrier laminate offers extended product shelf-life
Microwavable / ovenable (Camclear® ExtraPET Structure)
Camvac Contact Details;
Camvac Limited
Burrell Way, Thetford, Norfolk, IP24 3QY
www.camvac.com
+44 (0) 1842 755 021
info@camvaclimited.com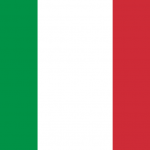 ExtraPET: Film riciclabile ad alta barriera prodotto da Camvac
Camvac è un'azienda con sede a Norfolk, pioniere in Europa nella produzione di film e laminati utilizzando PET e OPP metallizzato e trasparente per il contatto alimentare.
Camvac è attualmente uno dei principali fornitori mondiali di pellicole metallizzate e trasparenti che offrono un'elevata barriera protettiva. Inoltre nel nostro portafoglio abbiamo una vasta gamma di laminati per imballaggi alimentari, imballaggi liquidi (Bag-in-Box), applicazioni mediche, prodotti per l'edilizia e l'isolamento. I nostri film e laminati metallizzati possono essere trovati in una vasta gamma di prodotti finali e imballaggi di consumo, dai coperchi sui piatti pronti e dai prodotti dedicati all'isolamento in edilizia.
La gamma di prodotti è in costante sviluppo ed evoluzione per soddisfare le mutevoli esigenze dei consumatori. Grazie agli investimenti in progressi tecnologici effettuati da Camvac, siamo in grado di offrire ai nostri clienti prodotti di imballaggio sostenibili, disponibili nella gamma Camvert.
Non tutti i nostri prodotti ad alta barriera e sostenibili sono recenti poiché il film ExtraPET è stato creato da Camvac più di vent'anni fa ed è stato considerato un leader di mercato, riconosciuto in tutto il mondo come "Rolls Royce" di film per imballaggio. La sua struttura monomaterica e la sua elevata barriera sia all'ossigeno che all'umidità, fondamentali per il confezionamento in atmosfera protettiva o per atmosfera modificata, unitamente alle sue proprietà di trasparenza e antiappannamento, sono fattori che contribuiscono al suo continuo successo sul mercato.
ExtraPet è un prodotto completamente realizzato in PET (monomateriale), disponibile in una varietà di strutture, le due più comuni sono il poliestere da 12 micron laminato a poliestere da 15 micron e il poliestere da 12 micron laminato a poliestere da 25 micron. In Camvac otteniamo l'alta barriera grazie ad un processo di rivestimento, chiamato "Cam". Camclear® è stata un'altra innovazione sviluppata da Camvac, è un film trasparente, privo di cloro con un'eccellente barriera contro l'ossigeno e l'umidità che lo rende estremamente versatile per una varietà di applicazioni.
ExtraPET, essendo una struttura totalmente in poliestere, garantisce e facilita il suo successivo riciclaggio.
I nostri prodotti ExtraPet si trovano nella maggior parte dei supermercati del Regno Unito e hanno una presenza crescente a livello globale, soprattutto in Europa. Grazie alla versatilità del nostro laminato, è possibile utilizzarlo in una vasta gamma di prodotti come carni lavorate, carni fresche, pollame, pasta, verdure e prodotti da forno, dove la presentazione e l'aspetto fresco sono fondamentali. ExtraPET offre una varietà di soluzioni ecocompatibili, offrendo alternative in opzioni di sigillatura, proprietà barriera e antiappannamento.
ExtraPet ha la capacità di sigillare ermeticamente varie strutture di vassoio, compresi i vassoi in PET. La combinazione del vassoio in PET e del coperchio ExtraPET è la perfetta soluzione di imballaggio riciclabile in quanto è un prodotto completamente monomateriale
Non solo Camvac si accontenta di un prodotto leader di mercato, ma il team di tecnici lavora instancabilmente per garantire che ExtraPET superi le richieste del mercato e la sua reputazione.
Con l'imminente introduzione di una tassa sull'uso della plastica, l'investimento in nuove tecnologie sostenibili deve diventare non solo best practice, ma anche conveniente, rappresentando anche un grande vantaggio per i consumatori che richiedono sempre più possibilità di scelta ecologico e sostenibile.
Il miglior esempio di sostenibilità è la nostra soluzione ExtraPET PCR (Post Consumer Recycled). I nostri nuovi prodotti ExtraPET PCR sono nelle fasi finali di sviluppo e saranno commercialmente pronti nella primavera di quest'anno. Gary Chalkley, Direttore dello sviluppo di Camvac, ha commentato che "I consumatori chiedono soluzioni ecologiche e persino COVID-19 non ha fermato i piani di sviluppo di Camvac. Il nostro prodotto ExtraPET 70% PCR è nelle fasi finali di sviluppo. Camvac sarà in grado di accettare ordini da clienti nuovi ed esistenti una volta completato il ciclo finale di test. Lo sviluppo di ExtraPET PCR nasce direttamente dal duro lavoro dei nostri tecnici, ma anche dall'entusiasmo del nostro team di produzione per creare un film ancora più sostenibile ed ecologico per soddisfare le richieste del mercato ".
Il portafoglio clienti di Camvac è e continuerà ad essere aziende specializzate nella trasformazione dei nostri prodotti e aziende di confezionamento. Recentemente, l'azienda è entrata in nuovi mercati, collaborando con costruttori di macchine e produttori di vassoi. Queste nuove relazioni si basano sulla qualità e l'affidabilità del nostro prodotto ExtraPET.
Principali vantaggi di ExtraPET
Mono materiale (ampiamente riciclabile)
Rivestimento barriera senza cloro (ecologico)
Eccellenti proprietà di tenuta ai liquidi
Opzioni di sigillatura (peeling)
Opzioni anti-appannamento
Eccellente trasmissione della luce con conseguente alta visibilità e chiarezza del prodotto
Alta barriera, che offre l'estensione della vita utile del prodotto
Capacità di resistere a trattamenti termici (microonde / forno) nella versione Camclear® ExtraPET
Contatti:
Camvac Limited
+44 (0) 1842 755 021
info@camvaclimited.com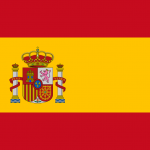 ExtraPET:  Película reciclable con alta barrera producida por Camvac
Camvac es una empresa situada en Norfolk, pionera en Europa por producir películas y laminados utilizando PET y OPP metalizadas y trasparentes para contacto con alimentos.
En la actualidad Camvac es uno de los principales proveedores mundiales tanto en películas metalizadas como transparentes que ofrecen alta barrera protectora. También en nuestro porfolio disponemos de una amplia gama de laminados para el envasado de alimentos, envasado de líquidos (Bag-in-Box), aplicaciones médicas, la construcción y productos de aislamiento. Nuestras películas y laminados metalizados se pueden encontrar en una amplia gama de productos finales y envases para el consumidor, desde tapas en platos preparados hasta formando parte en productos dedicados al aislamiento en la construcción.
La gama de productos de Camvac se desarrolla y evoluciona constantemente para satisfacer las necesidades cambiantes del consumidor. Gracias a la inversión en avances tecnológicos realizada por Camvac podemos ofrecer a nuestros clientes productos de embalaje sostenibles, disponibles en la gama Camvert.
No todos nuestros productos con alta barrera y sostenibles son recientes ya que la película ExtraPET fue creada por Camvac hace más de veinte años y se ha considerado líder en el mercado, reconocida mundialmente como un "Rolls Royce" de las películas para envasado. Su estructura mono material y su alta barrera tanto en oxígeno y humedad, crítico para el embalaje en atmosfera controlada o para atmosfera modificada junto con la transparencia y propiedades antivaho, son factores que contribuyen al éxito continuo en el mercado.
ExtraPet es un producto completamente fabricado de PET (mono material), disponible en una variedad de estructuras, siendo las dos más comunes poliéster de 12 micrones laminado a poliéster de 15 micrones y poliéster de 12 micrones laminado a poliéster de 25 micrones. En Camvac obtenemos la alta barrera debido a un proceso de recubrimiento, llamado "Cam". Camclear® ha sido otra innovación desarrollada por Camvac, es una película libre de cloro, transparente con una excelente barrera contra el oxígeno y la humedad que lo hacen extremadamente versátil para una variedad de aplicaciones
ExtraPET por ser una estructura totalmente fabricada de poliéster, garantiza y facilita su posterior reciclaje.
Nuestros productos ExtraPet se encuentran en la mayoría de los supermercados del Reino Unido y tienen una creciente presencia a nivel mundial especialmente en Europa. Gracias a la versatilidad de nuestro laminado, es posible utilizarlo en una amplia gama de productos como en carnes procesadas, carnes frescas, aves, pastas, vegetales y panadería, en donde la presentación y la apariencia fresca son fundamentales. ExtraPET ofrece una variedad de soluciones respetuosas con el medio ambiente, ofreciendo alternativas en las opciones de sellado, propiedades de barrera y antivaho.
ExtraPet tiene la capacidad de sellar herméticamente varias estructuras de bandeja, incluyendo las bandejas PET. La combinación de bandeja PET y la tapa ExtraPET es la perfecta solución de envasado reciclable ya que es un producto completamente mono material
Camvac no solo se conforma con un producto que es líder en el mercado, sino que el equipo de técnicos está trabajando sin descanso para garantizar que ExtraPET supere las demandas del mercado y su reputación.
Con la inminente introducción de un impuesto sobre el uso de plástico, la inversión en nuevas tecnologías sostenibles debe convertirse no solo en las mejores prácticas, sino también en ser asequible, al tiempo que representa una gran ventaja para los consumidores que cada vez más exigen opciones ecológicas y sostenibles.
El mejor ejemplo de sostenibilidad es nuestra solución ExtraPET PCR (Post Consumer Recycled). Nuestros nuevos productos ExtraPET PCR se encuentran en las finales etapas de desarrollo y estará listo comercialmente en primavera de este año. Gary Chalkley Director de Desarrollo de Camvac, comentó que "los consumidores exigen soluciones ecológicas e incluso COVID-19 no ha detenido los planes de desarrollo de Camvac. Nuestro producto ExtraPET 70% PCR se encuentra en las etapas finales de desarrollo. Camvac podrá aceptar pedido de nuevos y existentes clientes, una vez que se haya completado la ronda final de pruebas. El desarrollo de ExtraPET PCR proviene directamente del arduo trabajo de nuestros técnicos, pero también del entusiasmo de nuestro equipo de producción por crear una película aún más sostenible y respetuosa con el medio ambiente para satisfacer las demandas del mercado ".
La cartera de clientes de Camvac son y seguirán siendo las empresas especializadas en convertir nuestros productos y empresas envasadoras. Recientemente, la empresa ha entrado en nuevos mercados, asociándose con fabricantes de máquinas y productores de bandejas. Estas nuevas relaciones se basan en la calidad y fiabilidad de nuestro producto ExtraPET. Camvac continúa invirtiendo y desarrollando nuevos productos para envasado, estando en la continua búsqueda para asociarnos con empresas afines y discutir nuevas oportunidades, no solo para sus productos ExtraPET sino también para sus otras soluciones de envasado.
Beneficios clave de ExtraPET
Mono material (ampliamente reciclable)
Recubrimiento de barrera libre de cloro (respetuoso con el medio ambiente)
Excelentes propiedades de estanqueidad de líquidos
Opciones de sellado (pelado)
Opciones antivaho
Excelente transmisión de luz resultando en una alta visibilidad y claridad del producto
Alta barrera, ofreciendo la ampliación de la vida útil del producto
Capacidad de soportar tratamientos térmicos (microondas/ horno) en la versión Camclear® ExtraPET
Detalles de Contacto:
Camvac Limited
+44 (0) 1842 755 021
info@camvaclimited.com