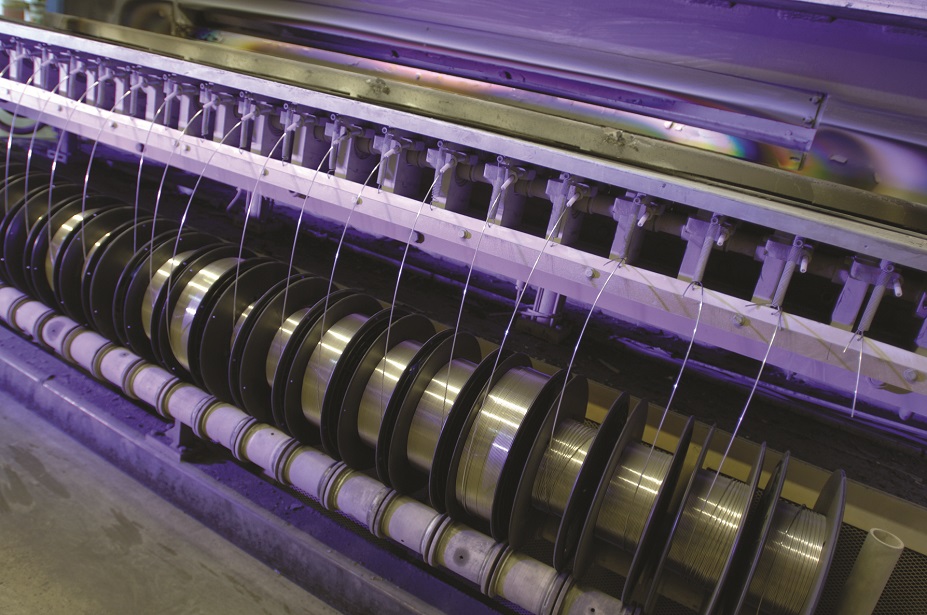 Metallised Films are generally polymer films which have been coated with a thin layer of aluminium during the production process to increase a products shelf-life, appeal or add certain barrier properties.
Camvac's original founders invented the process of Vacuum Metallisation in the 1930's. Since then, Camvac has grown into one of the leading manufacturers and suppliers of metallised films and non-woven materials to a varying array of customers. A large proportion of our products are patented, and the processes are licenced, resulting in truly unique products to Camvac. In our manufacturing facility we have three 2200mm wide metallisation machines and one 1650mm wide metallisation machine.
Metallised films are created to reduce the permeability of the film to light, water and oxygen whilst creating a highly reflective, mirror-like finish. During the metallising process, the properties of the film are unaffected. Comparing to aluminium foil, metallised film is a more robust product, possesses the ability to be heat sealed and is lower density. All whilst being available at a much lower cost. The characteristics of metallised PET film makes the material an exceptional packaging film for a vast array of food items. Applications include snack foods, coffee and microwave meals.
An ever-increasing wealth of film metallising expertise in high metal adhesion, high barrier, decorative, low optical density, strip and clear barrier means that Camvac is well placed to continue as a leading solution provider in each of its chosen markets.
Some products which are produced using the metallising process are; Camcrisp, Camlite and Camtherm.
Camcrisp
Camcrisp is a controlled optical density metallised film for microwave susceptors. Recent consumer changes have seen the 'food on the go' market grow massively, becoming the hallmark of modern living and with it the need for microwavable packaging which can both protect the product and allow fast preparation.
Camcrisp is a metallised film specifically developed for the microwave snack market. The metallised film is used to enable 'browning and crisping' of products such as pizzas, garlic bread, potato chips and popcorn during the re-heating process. Precise control of the film optical density gives assured microwave performance and controlled heat generation.
Metallised films are not only used within the packaging of foods and liquids. The films also possess certain properties making them ideal for protecting electronics which are sensitive to light and for using within the manufacture of insulation.
Camlite
Camlite is a controlled optical density metallised film. Originally developed for packaging light sensitive electronic components. Camlite is an example of a multipurpose product with at least two applications. Whilst giving the functional advantage of controlled light transmission, Camlite is a metallised film which has anti-static properties and gives a stylish aesthetic quality to promotional packaging application in the form of tinted transparent envelopes e.g. for sales literature and magazines.
Camtherm
Camtherm is metallised films and laminates for thermal insulation. Camtherm can be supplied as a laminate or single web structure and has been designed for a range of insulation applications. It can be produced in a variety of material substrates. All of which demonstrate exceptional barrier to oxygen and moisture as well as excellent emissivity values.
Applications for Camtherm are typically industrial and engineering insulation products; vacuum insulation panels, gypsum-type duplex board and moisture barrier underlay for flooring insulation.
Camvac's metallised films have a wide range of uses and are constantly increasing. Recent developments and a growing consumer demand have resulted in metallised films being available in a range of environmentally friendly solutions under our Camvert brand.
So, whether you are looking to increase the shelf appeal of your product or need a metal finish to your end-product, metallised films are a proven way to achieve your product differentiation and stay ahead of the competition. Camvac's metallised films are used in a wide range of products from home compostable acetate film within the luxury packaging marketplace to thermally efficient components of windows and double glazing.
Camvac's long trading history and experience means we are well positioned to be able to use this knowledge and expertise to apply metallising to a wide range of end uses and industries.
To discover more about Camvac's film metallising capabilities contact us today.